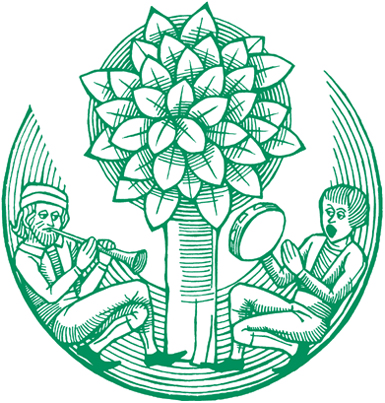 Cantamaggio celebrates the arrival of spring, the start of the new agricultural season and expresses the wish for good health for the community as a whole over the coming year.
The first of May sees groups of musicians passing door to door, inviting the locals make an offering towards the festival lunch for the musicians later that day. The groups are traditionally made up of male singers accompanied by accordion ,triangle and tambourine (with the exception of groups from the Fabriano area which also feature violin and fiddle).
The ritual of Cantamaggio and the significance of the rituals performed has diminished over the years, the locals aim to keep such traditions alive. On the 3rd Sunday in May various groups of musicians gather together to perform the popular songs in and around the castle walls.
Decoration of the tree
Local schoolchildren adorn the 'maggio' tree (which symbolizes fertility and wellbeing) with strips of brightly coloured materials that they have crafted over the previous months with their schoolteachers. Once decorated the tree is then carried in a procession by local youths to Piazza Tarsetti where it is erected and will remain until the end of the month. The decoration and procession of the tree is again an ancient ritual and is a testimony to the efforts of both the young and old.
The burning of the tree
The month of May comes to a close with the ritual burning of the 'maggio' tree. The tree is carried in a procession from the Piazza Tarsetti to Piazza Barcaroli where it is chopped and then burned. This final ritual of the festival is said to liberate and purify. Musicians accompany the procession and the evening concludes with popular music and dance.